Family run Notting Hill restaurant sold.
Ripe Tomato on All Saints Road has been a local favourite serving home-style Italian cooking for over 20 years when it was founded by singer and restaurateur Ethel Coley at the same time The All Saints girl group named themselves in honour of the street where they first met. Since then, it had been a real neighbourhood classic and local establishment to the Notting Hill community.
'A bitter-sweet deal' said Jessica Carlyle-Clarke, Leisure Property Consultant, from Charles Benjamin associates, who acted on behalf of the Coley family with the sale of their restaurant as Ethel's legacy moves on from the restaurant business and her daughter Alexia focuses full-time on her successful career as a singer.
Charles Benjamin Associates, who handled the sale, reported high levels of interested from other restaurant operators but knew that it would have to go to someone who would cherish the community values that had been an integral part of the Ripe Tomato. Jessica explains, 'The key to a successful sale is down to the way the sale is handled in a delicate and understanding manner. This process can be highly emotional for all parties involved and our role is to make this as pain-free as possible, being considerate to factors such as staff redundancies and finding solutions to all the problems that arise whilst legal due diligence is carried out.'
In this respect, it could not have gone to a better home as the premises have now been taken over by new restaurateur James Gummer, the former Maître d' of Isobel, part of the Santa Cruz group.
James, who lives and works locally, understands the importance of local relationships and the role of his new restaurant, named 7 All Saints Road, as a neighbourhood establishment. Whilst nurturing relationships with the local community, his aim is to create a neighbourhood restaurant serving modern European food with the best quality ingredients at its core.
It was certainly an emotional sale, as all the employees were an integral part of the restaurant and Coley family. With a growing portfolio of restaurant disposals, CBA successfully advised and guided the Coley family though the delicate process and in many ways going beyond the call of duty to ensure a successful and amicable completion takes place.
7 All Saints Road is due to launch Autumn 2017.
James was represented by Guy Marks at Restaurant Property.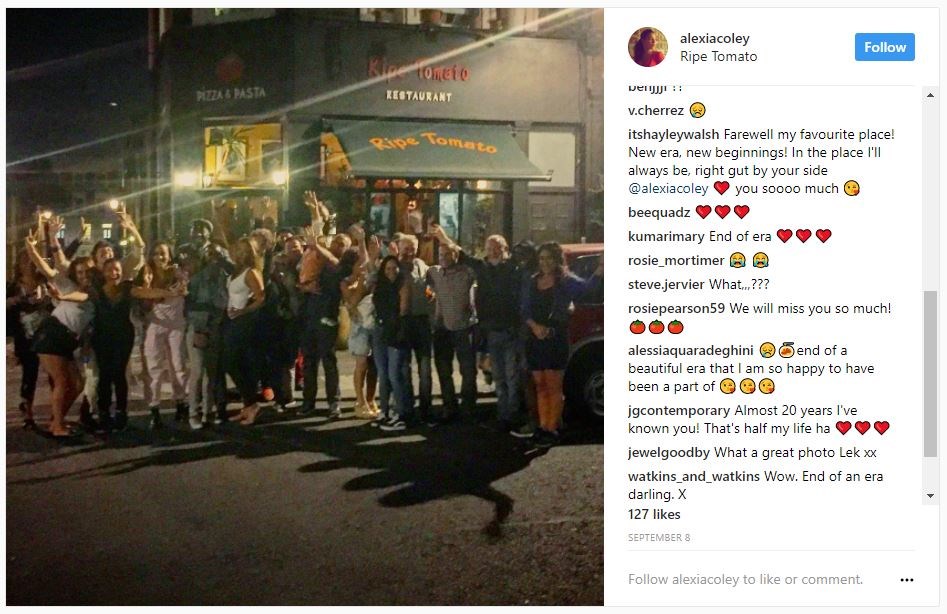 http://www.alexiacoley.com/